Details
Description
The new Carbon Core FX jammers by Arena have arrived! FINA approved for 2020 these jammers are a must have for your race day. Featuring the latest technology, the FX jammers create the sensation of maximum strength. The jammers provide intense compression and this oxygenates the specific muscle groups you use during your race. The Carbon Cage technology features horizontal and vertical bands which lock on to the body. The parallel lines of dual taping on the back of the legs maintain your horizontal, lifted position in the water. An absolute bonus when you're tired! The internal taping system also provides increased core stability and powerful support.
Key Features:
• Internal taping system: for a sensation of powerful support and core stabilization.
• Twin-tape structure: on the back of the legs for a lifting effect to help hold a high body position even when fatigued. For maximum hip-height in the water.
• Carbon Cage fabric: a horizontal and vertical grid that surrounds specific muscle groups for very strong and durable all over muscle compression with a locked-in feel.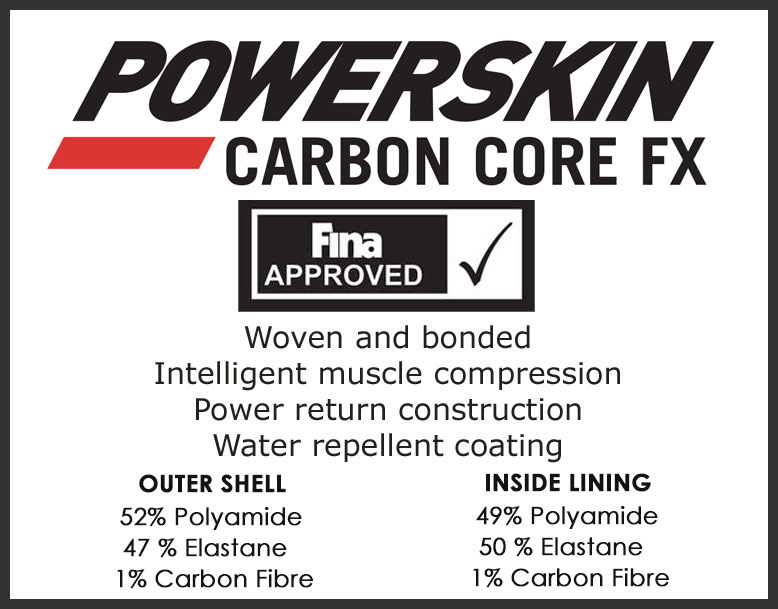 We sell the European Arena Racing Swimsuits which often feature an additional manufacturer's logo when compared to the American varieties. Other than the size of the logos, the suits are identical. Please be aware that the additional logo on Arena's European Racing Suits may exceed the 2.25 square inches of logo allowed in USA competitions. NFHS (The National Federation of State High School Associations) and NCCA (The National Collegiate Athletic Association) have rules on swimsuit branding and these suits are not compliant with the branding restrictions of these organizations. They are however fully compliant with UK, European and the rest of the world's regulations
Size Guide
Sorry, we have not got a size guide for this product.
Give us a call, and we will see if we can help you.
Please note: Sizes guides are given as a guide only